Are you looking for a reliable, portable power station that can keep all your devices charged? Then look no further!
I recently purchased the BLUETTI EB55 and in this blog post, I'm going to share my experience with it. From the features and specs of the EB55 to my personal thoughts on its performance, you'll find it all here. So let's get started!
MY EXPERIENCE WITH BLUETTI EB55
After testing the Bluetti EB55 power station, I am impressed with its performance and capabilities. The EB55 is a great portable power station that is easy to move around and keep out of the way. The LiFePO4 battery is robust and offers a great amount of power output and battery capacity.
I was surprised at the amount of charging ports available, allowing for efficient charging of multiple devices. The LCD display panel is a great addition for keeping track of the power levels and ECO mode helps to regulate the temperature and improve battery life.
Description
You'll love the Bluetti EB55.
The #1 reason to choose this product over similar items is its use of LiFePO4 battery chemistry, which can handle more charging cycles than other batteries and still operate efficiently.
We've used a variety of portable power stations over the years and have found the EB55 to be an outstanding device that outperforms budget power generators by a wide margin.
Positives
100W PD for superfast charging
Support dual recharging
Pass-through charging
Fully recharged 1.8 hours.
24-month warranty
Lastly, the safety features provide an extra layer of protection against potential hazards. Overall, I think the Bluetti EB55 is a great option for people looking for a portable solution for powering their devices.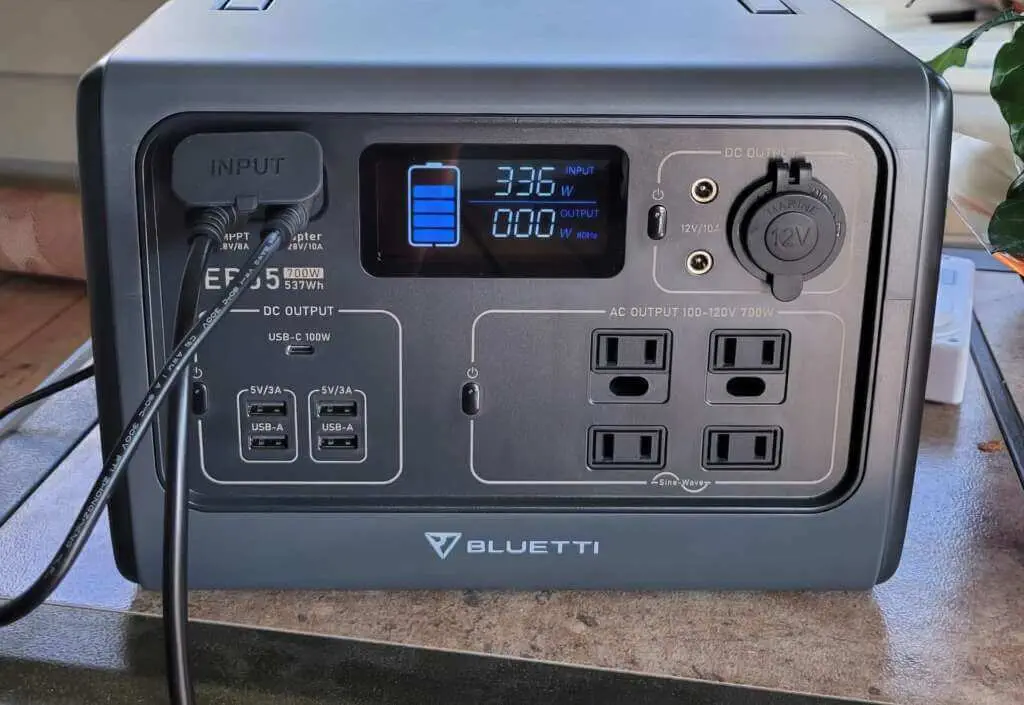 Pros & Cons of EB55 Power Station
The Bluetti EB55 power station has a number of pros and cons.
The Bluetti EB55 is a powerful and reliable portable power station with a lot of useful features. Its lightweight and compact design make it great for camping and outdoor activities, while its high-capacity lithium battery provides plenty of energy for powering multiple devices at once.
The 700W AC pure sine wave inverter is suitable for small to medium-sized appliances, such as radios and mini-fridges. The LCD display panel, Bluetooth app control, internal cooling system, and USB ports provide excellent monitoring and operation of the power station. It also has an eco mode that helps conserve energy when not in use.
The downside is the relatively high price point, although this is offset by its robust build quality, solid performance, and wide range of charging options. The lack of solar compatibility can be an issue for some users, but the option to purchase a separate solar panel can solve this problem.
Design And Build Quality
The Bluetti EB55 is designed to be a lightweight and compact power station. The outer casing is made of ABS plastic with ribbed design on the sides for a stronger grip. The unit feels solid and well-built; it does not feel overly fragile.
The lightweight compact size makes it very easy to move around and keep out of the way. The EB55 also has a built-in handle for easy transport. The interior components are well-protected and housed in an anodized aluminum case for added protection and durability.
Additionally, the EB55 has an internal cooling system to ensure that the power station does not overheat when running for long periods of time.
Power Output and Battery Capacity
The Bluetti EB55 portable power station packs a powerful punch with its 537Wh (144,000mAh) LiFePO4 battery that is capable of providing up to 700W of continuous AC power and 1,400W of surge power.
It can be recharged from the wall outlet, car charger, and the optional 200W solar panel. With the solar panel, you can get up to 4 hours of recharge time.
Charging Times
The Bluetti EB55 offers fast charging times, with a charge time of only 4-5 hours. This is due to the LiFePO4 battery that is used in this power station.
The unit also includes a 12V DC output and four USB ports, which support fast charging. This means that you can quickly charge your devices without having to wait too long.
USB Ports & Other Connections
The Bluetti EB55 has five USB ports and two 12V DC ports that are perfect for charging smaller devices. It also has two AC wall outlets and one DC car port which can be used to charge even more devices. Additionally, the EB55 has an MPPT solar input port that can be used to charge the device directly from the sun.
This makes it perfect for when you are camping or on the go and don't have access to a wall outlet. The EB55 also has a cigarette lighter port for powering car accessories such as a tire inflator or cooler. With all these ports, you can easily charge multiple devices at once and never worry about running out of power.
Eco Mode & Bluetooth App Control
The EB55 comes with a Bluetooth app control feature, allowing you to monitor your power station's performance and adjust its settings remotely.
It also has an Eco mode that automatically adjusts the output of the inverter to reduce power consumption and increase efficiency. This helps to extend the life of the EB55 and save energy while powering your devices.
Internal Cooling System
The Bluetti EB55 portable power station comes with a built-in cooling system that helps keep the internal temperature of the battery at an optimal level. This ensures that your battery is protected from overheating and potential damage due to high temperatures.
The cooling system is designed to be silent, so you won't have to worry about it being too loud or distracting. Additionally, the cooling system also helps increase the overall lifespan of the power station by protecting it from extreme temperatures.
LCD Display Panel
The LCD Display Panel on the Bluetti EB55 is easy to use and understand. It displays charge levels, output wattage, input wattage, and other useful information about the power station. The panel also includes an emergency power-off button for safety.
How long will EB55 power my device?
The BLUETTI EB55 700w portable power station has a 537Wh LiFePO4 battery and can provide power to up to 13 different devices or appliances.
The average working time for most devices is 537Wh * 0.85 / operating power. (0.85=Conversion Rate)
This power station is capable of providing days or even weeks of power, depending on the user's needs and the type of appliance or device used.
Where to buy Bluetti EB55
The EB55 Power Station can be purchased from the official Bluetti website and Amazon. The website also offers a range of accessories for the EB55. Additionally, there are a number of retailers in the US and Europe who stock Bluetti products.
Wattage: 700 watts
USB-C Port: Yes
Fully Charged: 1.8 hr
Charge Cycles: 2500+
Weight: 13.32 Pounds
Alternatives to EB55 Power Station
When it comes to alternative power stations to the Bluetti EB55, there are many options out there. For example, you could opt for the Goal Zero Yeti 1400 Lithium Portable Power Station, which has a higher capacity of 1325Wh and a higher peak power output of 1500W.
Another great option is the Jackery Explorer 1000 Portable Power Station, which has a capacity of 1045Wh and a 1000W peak power output. Both of these power stations offer more power and capacity than the Bluetti EB55, but they are also more expensive.
However, if you're looking for a cheaper alternative, the Jackery Explorer 500 Portable Power station is also an option with 500Wh and 600W peak power output.
Conclusion
The Bluetti EB55 power station is an impressive piece of kit. It's lightweight, portable, and packed with features and power options.
The battery capacity is excellent and will allow you to run multiple appliances and charge multiple devices. The inverter is powerful, with a 700W pure sine wave output and 1400W surge capability.
It also has a full range of ports and connections, including two USB ports, two 12V ports, one 3-prong AC outlet, and a DC port. The internal cooling system ensures that the unit does not overheat, and the LCD display panel makes it easy to monitor power usage.
The Bluetooth app control is also a great feature for those who want to manage their power remotely. All in all, the Bluetti EB55 is an excellent choice for anyone looking for a reliable and powerful portable power station.