If you've ever run into problems with your Apple Watch charger, or just want to have some extra options on hand, check out these four great alternatives. From wireless chargers to portable power banks, there's sure to be an option that suits your needs.
Apple Watch chargers are a great way to keep your Apple Watch charged. Apple has developed its own charger, complete with a magnetic system which makes it easy to line up the charger and know it's charging. That said, Apple's chargers are a bit pricey, so people are looking for alternatives.
4 of the Best Apple Watch Charger Alternatives

The Apple Watch is a great device, but one of its few drawbacks is the proprietary charger. If you're looking for an Apple Watch charger alternative, here are four of the best options.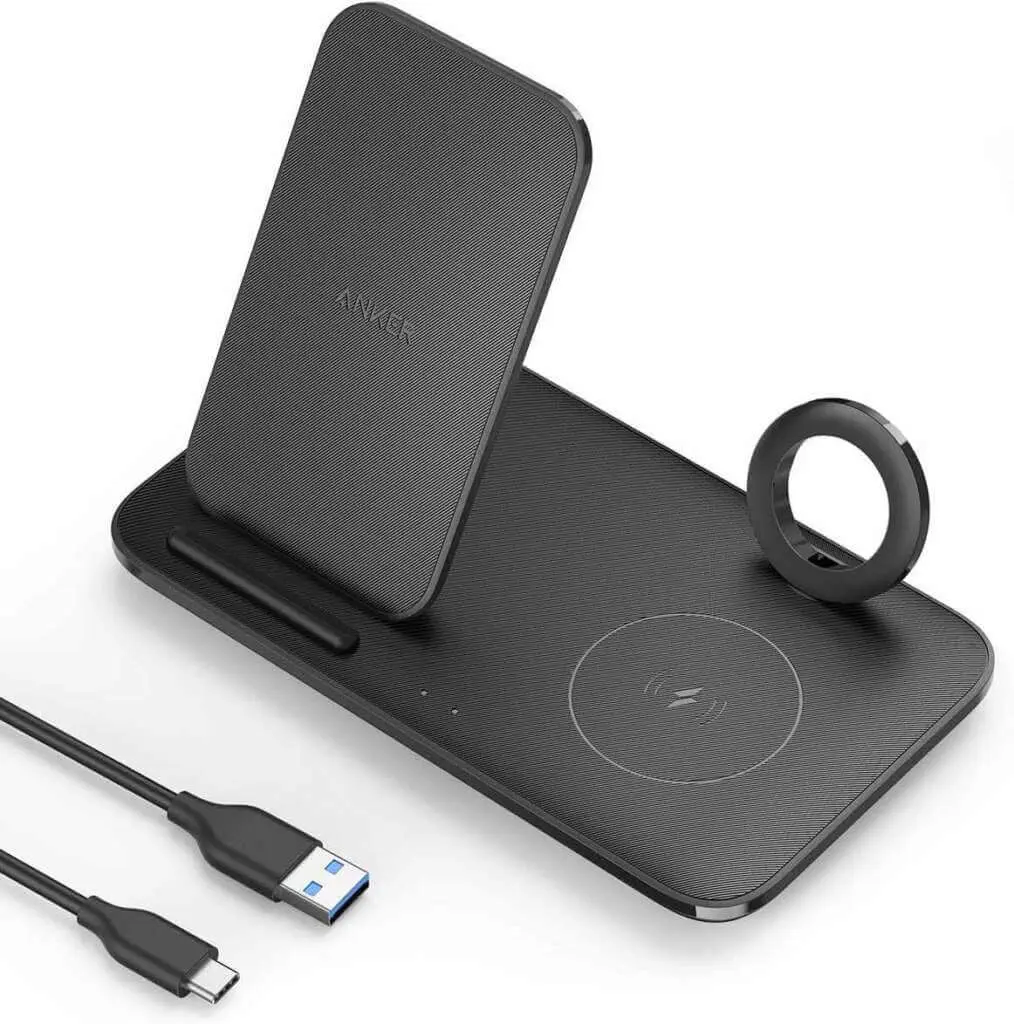 Anker Wireless Charging Station PowerWave 3-in-1 is a convenient, all-in-one solution for charging your Apple products. This Qi-Certified charging station is designed to charge up to three devices at the same time – an Apple Watch, iPhone, and AirPods – with its 5 ft USB-C cable.
The PowerWave 3-in-1 features a detachable magnetic stand that makes it easy to adjust the angle of your device while it charges, so you can watch movies or take calls without having to move it around.
It also comes with an AC adapter for added convenience. With Anker's advanced wireless technology, you can be sure your devices will stay charged and ready for use all day long.
Belkin 3-in-1 Wireless Charger with MagSafe
The Belkin BOOST CHARGE PRO 3-in-1 Wireless Charger with MagSafe is the perfect way to keep your devices charged and ready to go. This ultra-convenient charger features official Magsafe technology for seamless alignment and the fastest possible charge up to 15W for iPhone 12/13 series devices, Apple Watch, and AirPods.
The lay-flat design is compact enough to slide into your bag and take with you anywhere. Qi-certified safe & compatible with most phones, this 3-in-1 charger eliminates the need for multiple cords or adapters. Charge all of your devices at once without any hassle!
Anker Portable Magnetic Charger Connector
Anker Portable Magnetic Charger Connector is an MFi-certified cordless charger compatible with Apple Watch Series 1/2. It plugs directly into any USB-C charging port to power up your Apple Watch and is confirmed to work smoothly and safely.
mophie 3-in-1 Wireless Charging Stand for Apple devices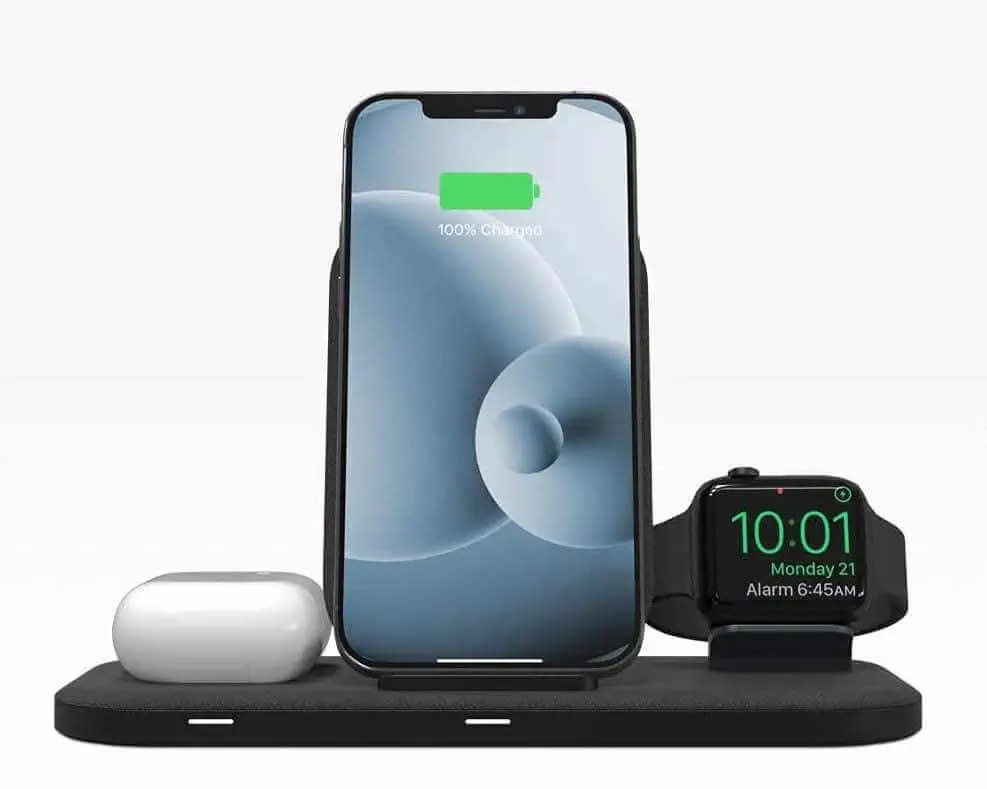 The mophie 3-in-1 Wireless Charging Stand is the perfect charging solution for all your Apple devices. With dedicated spots for your iPhone, Apple Watch, and AirPods, you can keep all your devices powered up in just one central location.
It features fast wireless charging up to 15W, so you can get a full charge quickly. It's also compatible with any MagSafe-enabled iPhone and charges through lightweight cases. Instantly turn any tabletop into a charging hub with this sleek 3-in-1 stand. Get it now and never worry about low batteries again!
Does it matter what charger I use for my Apple Watch?
It is important to use the right charger for your Apple Watch. The Apple Watch Series 7 and 8 come with a USB-C Magnetic Fast Charger, while the Apple Watch SE comes with a 1m Magnetic Charger to USB-C Cable.
To fast charge your Apple Watch you need an 18W, 20W, 29W, 30W, 61W, 87W, or 96 W USB-C Power Adapter. Your old charging puck may not be able to fast charge your new Apple Watch so make sure you have the correct charger for optimal performance.
Why did they change the Apple Watch charger?
Apple decided to change the charging puck for its Apple Watch Series 7 from plastic to aluminum. This change was made in order to provide fast charging capabilities, as well as increased durability. The new charger is designed with MagSafe technology, which allows it to securely attach to the back of the watch without any exposed contacts. Additionally, users can charge their Apple Watch and iPhone 11 simultaneously with the same charger.
Can I charge my Apple Watch with my iPhone charger?
No, you cannot charge your Apple Watch with your iPhone charger. This is because the Apple Watch does not support the Qi wireless charging standard, meaning it cannot be charged by an iPhone. The only way to charge an Apple Watch is by using its own dedicated charger or a compatible accessory like the MagSafe Duo Charger.
The MagSafe Duo Charger can be used to quickly and safely wirelessly charge both your iPhone 12/13 and Apple Watch simultaneously. Additionally, you can use the 5W USB Power Adapter that comes supplied with Apple Watch to charge other gadgets as well.
Can I use a 20W charger for Apple Watch?
Yes, you can use a 20W charger for your Apple Watch. Apple recommends using one of its chargers, such as the Apple 18W, 20W, 29W, 30W, 61W, 87W, or 96W USB-C Power Adapter.
This will ensure that your device is charged quickly and efficiently. However, it's important to note that fast-charging pucks are not compatible with the Series 6 and earlier models of the Apple Watch.
To get the best charging experience for your device, we recommend using a Nexbling Original 20w USB C Charger. This charger is able to provide fast full charging for both iPhones and Apple Watches.
How can I charge my Apple Watch without a charger?
Charging your Apple Watch without a charger is possible, but it requires an adapter. First, you'll need to purchase the USB adapter that is compatible with your model of Apple Watch.
Then, you can plug the adapter into a power source such as a wall outlet or portable charger. Make sure to take off your watch before charging.
Unfortunately, you won't be able to charge newer versions of the Apple Watch such as Series 6 and SE without a magnetic charger or wireless pad. If you don't have one, they are available for purchase from Apple stores and other retailers.
Conclusion
The Apple Watch is a fantastic smartwatch that is the perfect companion to your Apple iPhone. It helps you stay connected and in touch with important messages and other information, while also letting you stay fit and healthy by encouraging you to move more, and even helping you sleep better.
It's no surprise that many people are interested in the Apple Watch, as it is truly a remarkable device. The biggest downside to it is the price, as it is not the most affordable smartwatch on the market. If you're looking for a way to cut the cost of the Apple Watch, we recommend looking into the best third-party Apple Watch charger alternatives.
Even if you're not thinking of buying the Apple Watch, it's still a great idea to invest in a good third-party charger, as you can use it with any smartwatch or wearable device. After all, why spend money on a new charger every time you decide to buy a new smartwatch?